ePortfolio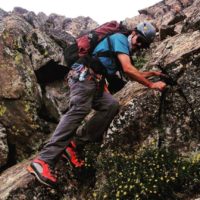 Introduction
Jeffrey Kepler was born in Longmont, Colorado, on July 18, 1986. When he was six months old he moved to Berthoud, Colorado, and lived there until he attended the University of Colorado at Boulder in 2004, for Environmental Engineering. After discovering this field was not for him, he moved to Breckenridge, Colorado, to pursue a career in professional snowboarding. In 2011, he enrolled in classes at Colorado Mountain College to continue his education, and in May of 2017, he expects to earn a BS in Business Administration in Sustainable Business and a BA in Sustainability Studies in Business. Throughout his studies, he developed a unique and diverse writing style that portrays his education in business and sustainably.
Jeffrey presents his writing portfolio on the next several pages, which illustrate many of his literary works he completed during his studies at Colorado Mountain College. The portfolio begins with a one page resume that outlines his educational and professional experience. Next, he presents a memoir about an important spiritual experience he observed in Rishikesh, India. He continues to present a profile about Yana Chikiris, who shares her knowledge to promote healing in others. A lab report, created in his Conservation Biology course,  focuses on the importance of pollination in high altitude environments. In his next writing, he outlines the importance of a local trail through an Ecological Communication page, which could be displayed at the beginning of a trailhead. To combine his business and sustainability studies, a "Sustainability Plan" that offers suggestions to improve the environmental, economic, and ethical operations of a local Breckenridge restaurant. The final writing in this portfolio, is a business case study analysis that reports the business performance of Berkshire Hathaway. Overall, these writings, combined with his original photographs, elucidate his creative, analytical, and journalistic writing abilities.
Jeffrey has also completed photography projects for the Summit Foundation, Ollie's Pub and Grub, and Kenosha Steakhouse. Work from these projects will be offered after the writing assignments.
Feel free to contact Jeffrey Kepler on this site: Contact
Table of Contents